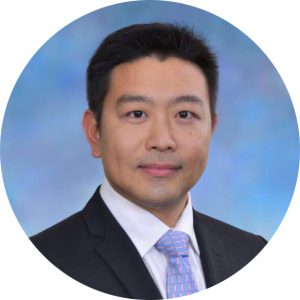 SPECIALIST IN ORTHOPAEDICS AND TRAUMATOLOGY
Qualifications
MBBS(Lond)
MRCSEd
FRCSEd(Orth)
PGDipSEM(Bath)
Clinical Associate Professor (Honorary)
Department of Orthopaedics and Traumatology, The Chinese University of Hong Kong
Clinical Assistant Professor (Honorary)
Department of Orthopaedics and Traumatology, University of Hong Kong
Biography
Dr Eric Yeung is a specialist in Orthopaedics and Traumatology graduated from University College London Medical School, University of London, UK. He had completed all his orthopaedic training in the Percivall Pott training rotation (North London Deanery) and gained his UK Specialist Registration.
He had worked as an Orthopaedic Consultant in a London teaching Hospital before he returned to HK in 2011. Since he returned, he had worked for the Hospital Authority (HA) in several large public hospitals, such as the Prince of Wales Hospital (PWH), Yan Chai Hospital (YCH) and most recently Queen Elizabeth Hospital (QEH).
The latter two hospitals (YCH and QEH) host two of the largest Joint Replacement Centres in Hong Kong, and QEH was also the busiest trauma unit in Hong Kong.
During his training, he had worked in many large teaching hospitals in and around London, including the University College London Hospital, Royal London Hospital and the Royal National Orthopaedic Hospital, Stanmore, covering all aspects of orthopaedics and traumatology. He had spent a year in Australia in one of the largest joint reconstruction practices in the Mater Hospital in Sydney for further training, and had gained a higher qualification in Sport Medicine from the University of Bath as part of his training.
Dr Yeung started his private practice since 2016, and founded his own specialist clinic SINCERUS Orthopaedics & Rehabilitation Centre in 2018, where he is doing most of his consultations.